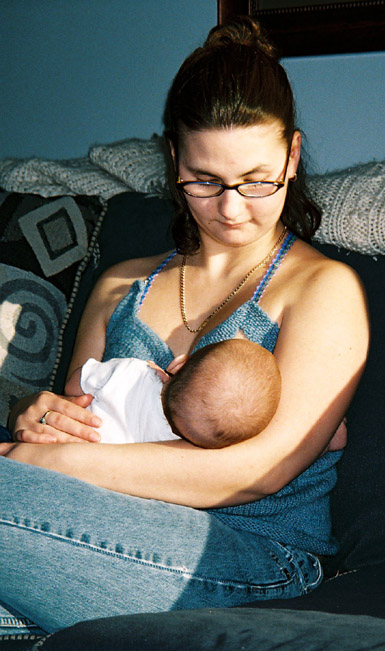 This DK-weight tank top serves double-duty as a nursing bra. A hook-and-eye closure at the top of the keyhole at the front allows the neckline of this top to sit higher than other nursing tanks. Undo this hook plus the closure at the top of the drop-down cup to easily feed your little one through triangular nursing openings hidden inside the cup.
This top features separate sizing for the body and for the bra cups, allowing you to put a D cup on a small body if necessary (isn't nursing great?)
The body of this top is knit in the round in simple stockinette stitch with rolled edge and gentle waist shaping. The bra cups are knit back-and-forth using two-end knitting (see Pattern Notes below) which provides more support and less show-through than a single strand of yarn. The bra cups are also shaped using short-row-shaping. The nursing openings are knit with a single strand of yarn in garter stitch.
Pretty ribbon straps cross at the back and help disguise the nursing function of this top. The straps adjust to help the fit of the top keep up with changes in your milk supply.
This is a perfect project for the expectant mother with an urge to knit - I know, you want to make a blanket or some such for the baby, but between gifts and hand-me-downs, you'll end up with a dozen blankets, and no cute little hand-knit nursing tops.
SIZE
Body: XS [S, M, L, XL]
Bra Cup: A [B, C, D, DD]
FINISHED MEASUREMENTS
Chest (just under bust): 29 [32, 35, 37.75, 40.75] inches
Hip: 31.25 [34, 37, 40, 43] inches
Lower Body Length: 10[11, 12, 13, 14] inches
Cup Height: 6.25 [6.75, 7.25, 7.75, 8.5] (top) inches
MATERIALS

Sirdar Country Style DK [45% acrylic, 40% nylon, 15% wool; 174 yd/159m per 50g skein]; color: 440 "Saxe"; 3 [3, 4, 4, 4] skeins approx.

1 24-inch US #6/4.0mm circular needle


Stitch markers


Stitch holders


3 hook-and-eye closures


Plastic hardware from 2 lingerie straps, either purchased or salvaged from an old bra


2 yds ribbon, 0.5 inch wide (or same width as lingerie straps)


Thread to match yarn


1 yd of 0.5 inch wide elastic


Tapestry needle


Sewing Needle


Optional: 1 yd stretchy seam binding

GAUGE

22 sts/28 rows = 4 inches in stockinette stitch AND in Two-End Knitting (change needle size if necessary)

PATTERN NOTES

[Knitty's list of standard abbreviations can be found here]

Two-End Knitting
When working in Two-End Knitting, work with either two balls of yarn, or with two strands from the same ball of yarn (one strand from the inside of the ball, and one strand from the outside). Work in stockinette stitch, working the first st with one strand, the second st with the second strand , then continuing to alternating strands for each stitch, holding the yarn not in use to the WS of the work. (This is just like working two-color stranded knitting with a color change on each st.) The purpose of Two-End Knitting is to achieve a firmer fabric with more body than plain stockinette st.




DIRECTIONS

Lower Body
Using circular needle, CO 172 [188, 204, 220, 236] sts.
Place marker and join to begin working in the round, being careful not to twist. K 86[94, 102, 110, 118], place second marker, k to end.
K 26[26, 28, 28, 30] rows.
Next Round: K1, ssk, k to 3 sts before second marker, k2tog, k2, ssk, k to last 3 sts, k2tog, k1.
K 15[17, 19, 21, 23] rounds.
Work these 16[18, 20, 22, 24] rounds twice more. 160[176, 192, 208, 224] sts rem.
Work even until piece measures 10[11, 12, 13, 14] inches. (Unroll edge when measuring.) Break yarn.

Elastic Casing
VERY, VERY IMPORTANT: From this point on, the sizing is for cup sizes A, B, C, D, and DD. Make sure you are working the correct size.
Place 90[98, 106, 114, 122] sts from front and sides (45 [49, 53, 57, 61] sts on each side of center front) onto a stitch holder, removing markers.
Reattach yarn to rem sts (back sts).
Work 6 rows in stockinette stitch. BO these sts.

Bra Cups
NOTES:
- This section is worked entirely in Two-End Knitting, unless otherwise indicated. Directions that instruct you to k or p a certain number of sts, mean to k or p those sts in Two-End Knitting.
- The first st of all RS and WS rows is slipped purlwise.

Place held sts on needle. With WS facing, join 2 strands of yarn to begin working in Two-End Knitting, changing needle size if necessary.
P 26[29, 32, 35, 38], place marker, p 38[40, 42, 44, 46], place marker, p 26[29, 32, 35, 38].
The next row will be Row 1 on the Short-Row Shaping Chart (see below).

Begin Short-Row Bust Shaping
To work short-row bust shaping, find your cup size in the chart below.
When working a row with short-row shaping, k to first marker, k indicated number of sts past first marker, w&t, p to marker, p same number of sts past marker, w&t, k to second marker, repeat short rows as for first marker. Pick up wraps as you encounter them and work it together with the st it is wrapped around. When a row has no number indicated for your cup size, work that row without short-row shaping.

IMPORTANT: Read through all remaining Bra Cup directions before proceeding!

Short-Row Shaping Chart
Cup Size

Row

A

B

C

D

DD

1

16

17

18

19

20

3

20

5

17

18

19

20

7

16

9

13

16

19

20

11

13

11

16

17

17

15

10

17

14

13

14

19

5

21

6

13

11

23

7

25

8

27

9
More details can be found here